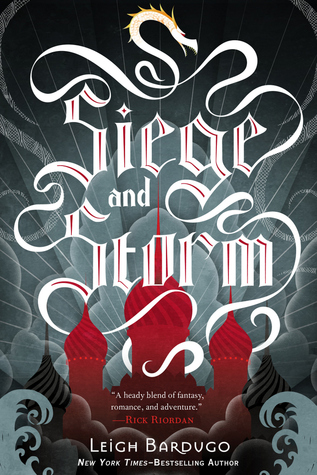 Siege and Storm (Grisha #2)
Leigh Bardugo
EPIC FANATSY
Spoilers for both books.
Darkness never dies.
Hunted across the True Sea, haunted by the lives she took on the Fold, Alina must try to make a life with Mal in an unfamiliar land. She finds starting new is not easy while keeping her identity as the Sun Summoner a secret. She can't outrun her past or her destiny for long.
The Darkling has emerged from the Shadow Fold with a terrifying new power and a dangerous plan that will test the very boundaries of the natural world. With the help of a notorious privateer, Alina returns to the country she abandoned, determined to fight the forces gathering against Ravka. But as her power grows, Alina slips deeper into the Darkling's game of forbidden magic, and farther away from Mal. Somehow, she will have to choose between her country, her power, and the love she always thought would guide her--or risk losing everything to the oncoming storm.
You can read my fangirling review of Shadow and Bone here. I realize now it wasn't really coherent and contained many grammar mistakes. In my defense, I was so blown away by the book I couldn't have been bothered. *apologies* I also kept most of my thoughts to myself wanting to keep the review spoiler-free. There is absolutely no point in that, therefore this review will be nice and spoilery(;
So, after the whirlwind of OH MY GOODNESS in Shadow and Bone, needless to say I had expectations for Siege and Storm. Dearest Leigh Bardugo, I applaud you for exceeding them.
I'll start with the fact that this book was HILARIOUS. Mal's and Alina's familiar banter had me laughing out loud and generated many a concerned glance from my roommates. You could just tell that they grew up together and loved each other, and that their love is now taking on a new romantic shape. It was truly beautiful to read.
After being SEVERELY MISLEAD in the last installment about the Darkling (I'm still reeling over that. One minute he's the resident hot guy, and the next he was the villain. I was like, "IS SHE ALLOWED TO DO THIS?"- in regards to the author.) I thought I was prepared for anything. Ha ha.
When Sturmhond was introduced, I thought he was so great. At one point I was like, OMG THIS GUY SHOULD TOTALLY BE KING. Later, I thought, 'when they overthrow the Darkling and the king, I bet he'll be in charge.'
Then they get caught and he strips and viola, he's the prince.
Me: shut up
Me: JESUS OMG I WAS JOKING
Me: You're actually serious
Me: OMG
Me: YESSSSSSSSS
See. I told you I was prepared for anything.
The love triangle- took on a whole new dynamic. Now there's Nikolai in the picture, and tension and frustration in Alina's relationship with Mal. Not to mention the well-hidden but ever-present attraction to the Darkling. I'M SO CONFUSED. I LOVE IT.
SO MANY NEW DEVELOPMENTS. Genya. The Apparat. Vasily. Mal going nuts. Three amplifiers. Plot-wise, Siege and Storm is a feast.
I can't wait to order Ruin and Rising and The Tailor. This series has quickly become one of those that I shove in the face of everyone I know. I suggest you do the same.
Rating: