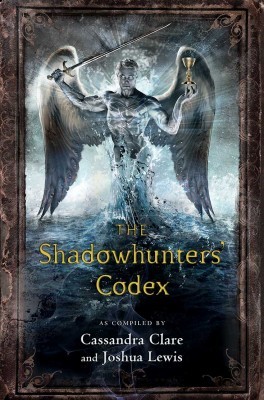 The Shadowhunter's Codex
Cassandra Clare and Joshua Lewis
TMI companion
The Clave is pleased to announce the newest edition of the Nephilim's oldest and most famous training manual: the Shadowhunter's Codex. Since the thirteenth century, the Codex has been the young Shadowhunter's best friend. When you're being swarmed by demons it can be easy to forget the finer points of obscure demon languages or the fastest way to stop an attack of Raum demons. With the Codex by you
r side, you never have to worry.
Now in its twenty-seventh edition, the Codex covers it all: the history and the laws of our world; how to identify, interact with, and if necessary, kill that world's many colorful denizens; which end of the stele is the end you write with. No more will your attempt to fight off rogue vampires and warlocks be slowed by the need to answer endless questions from your new recruits: What is a Pyxis? Why don't we use guns? If I can't see a warlock's mark, is there a polite way to ask him where it is? Where do we get all our holy water? Geography, History, Magic, and Zoology textbook all rolled into one, the Codex is here to help new Shadowhunters navigate the beautiful, often brutal world that we inhabit.
For my reviews on all things Shadowhunter click here.
Ultimately, the top prize for best project to appease fans series companion ever goes to The Bane Chronicles and Percy Jackson's Greek Gods. HOWEVER, The Shadowhunter's Codex is a close, close second.
While I'll never claim The Mortal Instruments or The Infernal Devices are written works of genius plot-wise, they are THE BEST BOOKS EVER when it comes to characters and fun and world-building and FEELS. If you are a fan of Cassie Clare's books, you will LOVE having this book on your collection.
For starters, The Shadowhunter's Codex is GORGEOUS. The jacket is soft and 3D and ridiculously detailed and PUUUURRRRTYYY. When you strip the book its hardcover is
swirly
blue and black and has a little golden Mortal Cup.
The interior is decorated with illustrations by a slew of SERIOUSLY TALENTED artists. They were cool and pretty and creepy all at once. And of course, Cassandra Jean doodling all over the thing as Clary.
Secondly, Clary, Jace, and Simon have added their sarcastic comments on everything, making the read good fun. Also, Magnus and Clary each put in a letter, and every once in a while Luke or Jocelyn have some input through Clary. Basically, it's a nice catch-up with the crew.
A lot of the actual content you know already, but don't let that bore you into putting the book down. Towards the middle there is a whole lot of info we never knew from the regular Shadowhunter books, not to mention a well-done Table of Marks, a map of Idris, and interesting appendixes.
All in all, the Codex is a funny and quick and absolutely drool-inducing good-looking read. SO ABSOLUTELY worth adding to your Cassandra Clare shelf. Believe me, you'll be showing it off to your fanpeople friends. Rating:
Have a great week!
Love,
Esty