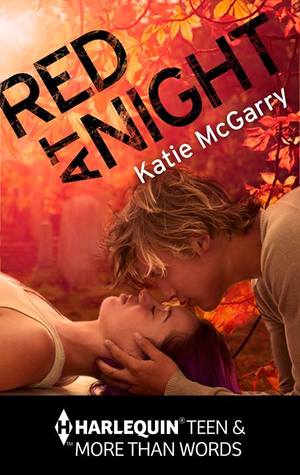 Red at Night
Katie McGarry
Harlequin More Than Words Novella
In Red at Night, Stella and Jonah are total opposites. She's the girl with purple hair from the wrong part of town. He's a high school senior who hangs with the cool crowd. Until a car accident leaves him haunted by guilt, and Jonah starts spending time at Stella's favorite refuge…the local cemetery.
Stella knows she should keep her distance—after all, she spent her girlhood being bullied by Jonah's friends. Once he's sorted out his tangled emotions, Jonah won't have time for her anymore. Too bad she's already fallen for him.
No, I did not choose purple just because I like it. It matches, see? Her hair is striped!
It's Katie McGarry, obviously it was good.
I looooved the romance, and I became quickly attached to our protagonist, Stella. Unfortunately, so did Jonah.
Now, usually Ms. McGarry doesn't have this problem in her books, but I guess because this is a novella she had to speed things up a bit. I liked them and their story, so I have decided to forgive her and I believe you will, too.
The setting was weird and different, something that drew me in immediately. Innocent-boy-has-ridiculous-guilt-complex was not, however. Seriously, I had expected there to be SOME half-legitimate reason to blame himself. There wasn't. SIGH.
I liked how the character development was spoken about. Jonah really changed over the course of 84 pages, and I thought it was important how they brought it up a lot. Otherwise, it wouldn't have been realistic.
There was a really beautiful scene when they volunteer for an organization called Goodie Two Shoes Foundation- the book is part of the More Than Words program by Harlequin, which is helping promote it. I thought it was a beautiful scene, especially as Stella herself is a recipient of the charity - therefore, not making the volunteering a scene to make the characters look good, but really highlighting the work done and the positive results.
All in all, an adorable, quick read. Too short! Rating:
Happy reading!
Love,
Esty