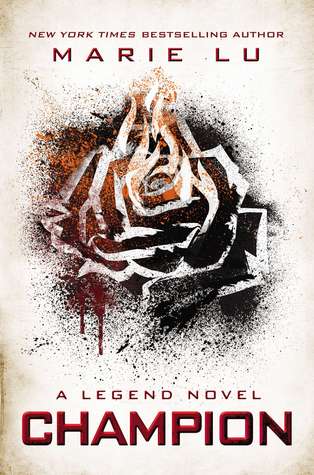 Champion (Legend #3)
Marie Lu
dystopia
He is a Legend.
She is a Prodigy.
Who will be Champion?

June and Day have sacrificed so much for the people of the Republic—and each other—and now their country is on the brink of a new existence. June is back in the good graces of the Republic, working within the government's elite circles as Princeps-Elect, while Day has been assigned a high-level military position.

But neither could have predicted the circumstances that will reunite them: just when a peace treaty is imminent, a plague outbreak causes panic in the Colonies, and war threatens the Republic's border cities. This new strain of plague is deadlier than ever, and June is the only one who knows the key to her country's defense. But saving the lives of thousands will mean asking the one she loves to give up everything.
Click here to read my reviews of Legend and Prodigy.
I totally FLEW through this book. Everything was just so fascinating, the stakes were so high.. there were politics, negotiations, love, loss, sad times and fun times.
Day continues to be awesome. You just can't help but love him, and admire his loyalty despite everything he'd been through, and his determination to never give up. June is alright- she's very real, and that unfortunately means she's very flawed. Naturally, this made me want to read about Day all the time. However, she displayed really remarkable emotional intelligence in Champion, and was constantly there for everyone.
Like I said about Prodigy, all the usual literary cliches for last-books-in-the-series were here, something that greatly pissed me off. I WAS NOT HAPPY WITH THIS ENDING. I won't spoil it, but it just wasn't probable, overally disappointing and unnecessary. I also felt that I wanted more information about the Republic for closure- we were told what we needed to know but I like Anden as a leader and wanted to experience within the story the happy ending for the country.
What can I say? I loved it and was practically in tears to finish such a wonderful series but I can't not dock off a star for that ending.