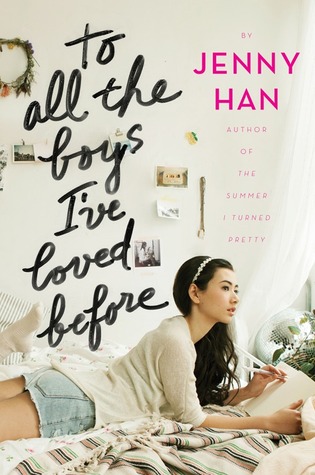 To All The Boys I've Loved Before
Jenny Han
Contemporary
To All the Boys I've Loved Before is the story of Lara Jean, who has never openly admitted her crushes, but instead wrote each boy a letter about how she felt, sealed it, and hid it in a box under her bed. But one day Lara Jean discovers that somehow her secret box of letters has been mailed, causing all her crushes from her past to confront her about the letters: her first kiss, the boy from summer camp, even her sister's ex-boyfriend, Josh. As she learns to deal with her past loves face to face, Lara Jean discovers that something good may come out of these letters after all.
This never happens to me - usually when I love a book I love it straight off the bat. I also usually never hate a popular, bestselling book - not always in love with it, but usually never hate it. I consider my tastes fairly normal.
This book tho.
I couldn't stand it for the first 50 pages or so, and seriously considered putting it down. (THIS NEVER HAPPENS) Because I'm crazy about not DNFing, I continued. Boy am I happy.
From the second Lara Jean jumps on Kavinsky and I looked up from the book in bewilderment like did she just do that things took a turn for the awesomeness. I loved how funny things were, I love how I grew to care. I hurt for Josh, I hurt for the sisters. I liked how normal and boring our protagonist was, but how her story and life was beautiful and meaning to me nonetheless. I liked how she was Asian, and it was addressed - ahhahh I had never thought about the costumes thing.
The romance was beautiful. It was slow, it was funny, it was natural. He grew on me, Peter. Totally had me in love with him by the end. My only real point of criticism throughout the novel was that Lara didn't dwell pretty much at all on who sent her letters. I felt that anyone else wouldn't rest until they found out who had done it.
As for the person who had done it... without spoilers, I felt that that was a drastic move, and frankly an unforgiveable one. Not to mention the cause of Lara and Margo's fallout... the Song girls' ability to forgive each other was truly astonishing.



THE ENDING.

Like with Jenny Han's other books, I had a bad feeling about where the sequel was going to go so I spoiled it in order to decide whether or not to read it. Fortunately, it seems things will end up where I believe they should be and have decided to continue(:
Soooo recommended.