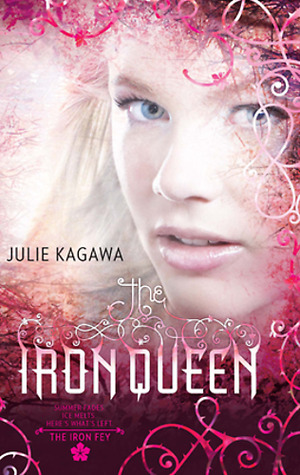 The Iron Queen (The Iron Fey #3)
Julie Kagawa
Paranormal fantasy
My name is Meghan Chase.
I thought it was over. That my time with the fey, the impossible choices I had to make, the sacrifices of those I loved, was behind me. But a storm is approaching, an army of Iron fey that will drag me back, kicking and screaming. Drag me away from the banished prince who's
sworn to stand by my side. Drag me into the core of conflict so powerful, I'm not sure anyone can survive it.
This time, there will be no turning back.
You can read my reviews for books 1 and 2 here. If you've read those you'll see that each time, I came at these books expecting to love them but then was disappointed.
The cover is beautiful, the premise is original, everyone seems to adore the series. And yet, I could only just tolerate the first two. However, The Iron Queen redeemed the series for me- I don't love it yet, but I can tell that I will by the end of book 4.
Meghan started off as annoying as ever, treating Puck like trash but then running back to him for help the second she needed him. Her concerns were ASH ASH ASH.
But then, miraculously almost, she experienced what we call 'character development'. ROUND OF APPLAUSE PLEASE, LADIES AND GENTLEMEN. Took her three darn books.
Seriously, Ms. Kagawa.
She starts to care about BOTH of her companions and the kingdoms relying on her, and goes lengths to secure her human father's safety and mental health. She takes charge when she can and yields results. It was fun and refreshing, if a little unbelievable at times when she beats people with way more skill and experience than her at sword fighting. Whatever- I'll take whatever improvement I can get.
Ash opens up much more, and we can see that there's A LITTLE BIT OF PERSONALITY in that 'piece of ice he calls a heart' (Thank you, Puck). Speaking of Puck, he (and I) finally begin to accept that Ash and Meghan will be together and he stops trying to woo her.
Hands down best character is Grimalkin. When the answer has been obvious to me for 150 pages Grimalkin loses his patience with Meghan and says, annoyed
"Really, human. Sometimes I despair."
....
HE UNDERSTANDS ME
And he goes on throughout the book with many sarcastic remarks, much like me in this review.
One last problem. The novel contradicted itself in some places and just plain didn't make sense in others. Like how a certain person survived in the end? Whaaa
Okay, okay. RANT OVER. In the good, I did enjoy this novel in spite of myself. I guess that's why I continued all the way to book #3. But the best news is-
BOOK 4 IS ALL ABOUT PUCK AND ASH. TOLD FROM ASH'S POV.
I could throw a party.
Rating: 3.5 stars. If you know how to cut pictures, please enlighten me.