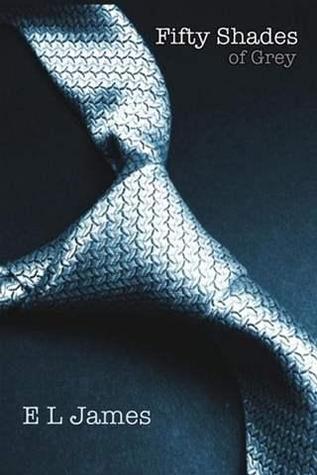 Fifty Shades of Grey
E.L. James
Erotica, adult(!!)
When literature student Anastasia Steele goes to interview young entrepreneur Christian Grey, she encounters a man who is beautiful, brilliant, and intimidating. The unworldly, innocent Ana is startled to realize she wants this man and, despite his enigmatic reserve, finds she is desperate to get close to him. Unable to resist Ana's quiet beauty, wit, and independent spirit, Grey admits he wants her, too—but on his own terms.
Shocked yet thrilled by Grey's singular erotic tastes, Ana hesitates. For all the trappings of success—his multinational businesses, his vast wealth, his loving family—Grey is a man tormented by demons and consumed by the need to control. When the couple embarks on a daring, passionately physical affair, Ana discovers Christian Grey's secrets and explores her own dark desires.
Erotic, amusing, and deeply moving, the Fifty Shades Trilogy is a tale that will obsess you, possess you, and stay with you forever.
Well, it wasn't a literary masterpiece. It
wasn't what I expected either.
Fifty Shades has a reputation of basically being a badly disguised form of pornography. I picked it up on my usual assumption that something this big and popular must have something to it. I found it- there's so much potential in the personalities of Christian and Ana. I raced through the entire novel hungry to understand WHY they were the way they were.
I was satisfied on one of the fronts. I figured out the cause of Christian's BDSM thing right off the bat, but there's still more to know and that kept me going. I will note, however, that Ana didn't really get it (Christian's history) until the end which I thought was rather stupid of her.
Speaking of Ana, her personality is either going to make or break the rest of the trilogy for me. The one thing I couldn't grasp throughout the whole book was WHY THE HELL WOULD SHE AGREE TO THIS STUFF. She had a normative childhood and currently has a good thing going (apartment with her best friend, university degree, a job) and any sane girl of her upbringing would go running for the hills the second Christian showed her those contracts. No matter how charming he is or how good he looks. It was the one aspect I didn't buy- I mean, it's not like she loved him yet (in the beginning). If that isn't explained or explored in book 2 I'll probably abandon the series.
Quite honestly? What with what I mentioned above and the fact the Christian truly is a fascinating character, the sex was the least interesting part. (It did get a little tedious and at times even laughable). I will warn you though, the BDSM really freaked me out. I wasn't familiar with the concept before reading the book and it is so gigantically WRONG. The sheltered (like me) have to be prepared to be appalled.
The romance? I don't know. It seems nice and real but so unhealthy and incorrect. Christian loves her for being brave and independent yet seeks to control her entirely. On the bright side, it seems this starts to get better in Fifty Shades Darker (despite the ominous title).
Rating: