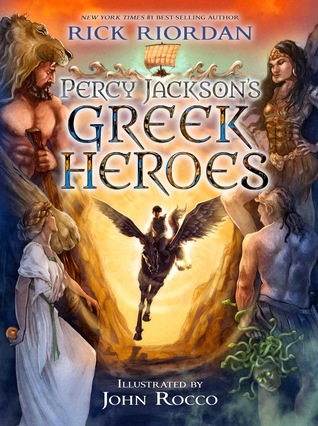 Percy Jackson's Greek Heroes
Rick Riordan
Companion to Percy Jackson and the Olympians and Percy Jackson's Greek Gods
Who cut off Medusa's head? Who was raised by a she-bear? Who tamed Pegasus? It takes a demigod to know, and Percy Jackson can fill you in on the all the daring deeds of Perseus, Atalanta, Bellerophon, and the rest of the major Greek heroes. Told in the funny, irreverent style readers have come to expect from Percy, ( I've had some bad experiences in my time, but the heroes I'm going to tell you about were the original old school hard luck cases. They boldly screwed up where no one had screwed up before. . .) and enhanced with vibrant artwork by Caldecott Honoree John Rocco, this story collection will become the new must-have classic for Rick Riordan's legions of devoted fans--and for anyone who needs a hero. So get your flaming spear. Put on your lion skin cape. Polish your shield and make sure you've got arrows in your quiver. We're going back about four thousand years to decapitate monsters, save some kingdoms, shoot a few gods in the butt, raid the Underworld, and steal loot from evil people. Then, for dessert, we'll die painful tragic deaths. Ready? Sweet. Let's do this.
I don't need to tell you about Percy Jackson. All I need to say is that if you love him, if you love Greek myths, and EVEN IF YOU THINK YOU KNOW THEM, this is your book.
Right after I finished Percy Jackson's Greek Gods (link to my review), the other gorgeous, coffee table-sized companion, I immediately started salivating for a book about the heroes. Imagine my delight when it's release was announced right away... a year before. Basically, was so psyched to receive my preorder after 12 months of agonizing wait.
AND I WAS NOT DISAPPOINTED. Back are the chapter titles, and Percy's unique sarcasm on everything. And this time, he brings up his own experience with everyone quite a lot! I loved the little reminders of all the fun times we had as kids with him. (No spoilers, don't worry)
Also, HOORAY FEMINISM! Rick Riordan really made an effort for the ladies and it shows. He includes the stories of Otrera, Atalanta, and Cyrene, all lesser known. He also makes a point of explaining how sucky life was for women back in ancient times, and of course how stupid Percy thinks that is.
And of course, John Rocco's ever-amazing illustration. Truly, just a feast for the eyes. And did I mention this book is HUMONGOUS? Well, it's HUMONGOUS. 416 super-sized pages of glorious Greek fun. Rating:
Love,
Esty