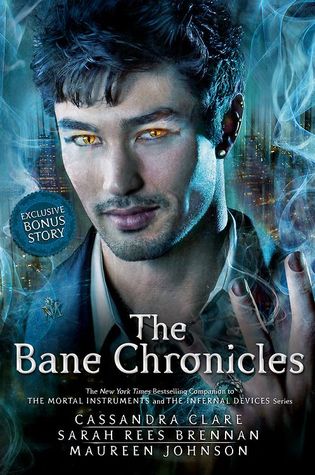 The Bane Chronicles
Cassandra Clare, Maureen Johnson, Sarah Rees Brennan
Illustrated by Cassandra Jean
Companion to The Mortal Instruments series and The Infernal Devices series.
Fans of The Mortal Instruments and The Infernal Devices can get to know warlock Magnus Bane like never before in this collection of New York Times bestselling tales, in print for the first time with an exclusive new story and illustrated material.

This collection of eleven short stories illuminates the life of the enigmatic Magnus Bane, whose alluring personality, flamboyant style, and sharp wit populate the pages of the #1 New York Times bestselling series, The Mortal Instruments and The Infernal Devices.

Originally released one-by-one as e-only short stories by Cassandra Clare, Maureen Johnson, and Sarah Rees Brennan, this compilation presents all ten together in print for the first time and includes a never-before-seen eleventh tale, as well as new illustrated material.
First of all, if you haven't read any of Cassandra Clare's books get off the internet and don't come back until you have finished Clockwork Angel. You CAN read The Bane Chronicles on it's own, but why would you want to?
Overall? This book was the probably one of my favorites of the year. There is nothing more amazing than getting a whole book about the best character in existence. Magnus's story made me laugh, cry, die of shock. I came to ADORE Raphael, Catarina, and Ragnor, all of whom I largely ignored in the regualar novels.
The Bane Chronicles shed some light on what life is like for the immortals, and also on subjects like Valentine's Circle, Clary's memories and childhood, CAMILLE BELCOURT, the red necklace, EDMUND HERONDALE, Alec and Magnus's relationship (I'm laughing just from the MEMORY of that story), WILL AND TESSA.
And while it provided us with lots of information it also, in true Cassie Clare fashion, provided us with lots of teasing hints. What's going on with James Herondale?? TELL ME, CASSANDRA CLARE. Naturally, we're made to wait until she releases The Last Hours series. You can't stop reading this lady's books even if you WANT to.
I had so many feelings. Warning: May contain heartbreak. Although not all were created equal. Most emotional were Vampires, Scones, and Edmund Herondale and The Midnight Heir. Funniest in my opinion were Saving Raphael Santiago (also emotional) and The Course of True Love (And First Dates)
I spent hours liking Goodreads quotes from this book. That's all I'll say.
(Well, that and that the point of it was to post them here, but THEY WON'T COPY. #HoursWasted)
I am aware that this review was not exactly coherent.. course on par for Cassandra Clare books(: