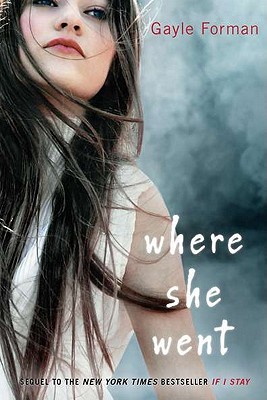 Where She Went (If I Stay #2)
Gayle Forman
Contemporary romance
It's been three years since the devastating accident . . . three years since Mia walked out of Adam's life forever.
Now living on opposite coasts, Mia is Juilliard's rising star and Adam is LA tabloid fodder, thanks to his new rock star status and celebrity girlfriend. When Adam gets stuck in New York by himself, chance brings the couple together again, for one last night. As they explore the city that has become Mia's home, Adam and Mia revisit the past and open their hearts to the future - and each other.

Told from Adam's point of view in the spare, lyrical prose that defined If I Stay, Where She Went explores the devastation of grief, the promise of new hope, and the flame of rekindled romance.
You can read my review of If I Stay here. This duo of books (can you say that? Maybe a pair of books? Companionship?) is one that I can feel that I'll reread many times. Both of them moved me subtly, without the fanfare that accompanies my feelings during John Green books, for instance.
The writing in this installment continued to blow me away. Every moment, every feeling, was so immensely palpable to the reader.
The pacing, too, was extraordinary. How the author manages to pack so much material in so little time with so few pages and without it ever feeling rushed or cramped is beyond me.
I loved how this wasn't so much Adam's POV as it was his story. How ADAM lived through the break up, how ADAM rose to fame, how he's dealing with it now. Where She Went added a whole new depth to an already amazing character we grew to love in If I Stay. He broke my heart and swelled it with love again and again with every page.
I was very, very, angry with Mia about what she did to Adam. Especially after everything he did in If I Stay, I JUST COULDN'T BELIEVE HER. When she explained herself I sort of understood, but I still didn't justify it. However, that gigantic mistake made her more real to me.. somehow, Mia is still a likable character in my eyes.
Which brings me to the romance. All I can say is, have the tissues on hand. Like I wrote about If I Stay, all the awkwardness and depth that real life is made of was there. And this time, their maturity took the relationship to whole new level, made complete by the beautiful memories they shared and all the longing of the last 3 years. And the epilogue was so original and so emotional that I JUST CAN'T EVEN.