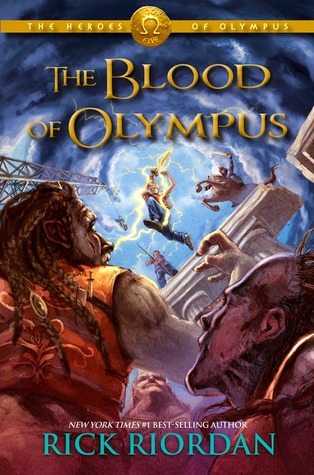 The Blood of Olympus (Heroes of Olympus #5)
Rick Riordan
Middle Grade, Greek Mythology
Though the Greek and Roman crewmembers of the
Argo II
have made progress in their many quests, they still seem no closer to defeating the earth mother, Gaea. Her giants have risen—all of them—and they're stronger than ever. They must be stopped before the Feast of Spes, when Gaea plans to have two demigods sacrificed in Athens. She needs their blood—the blood of Olympus—in order to wake.
The demigods are having more frequent visions of a terrible battle at Camp Half-Blood. The Roman legion from Camp Jupiter, led by Octavian, is almost within striking distance. Though it is tempting to take the Athena Parthenos to Athens to use as a secret weapon, the friends know that the huge statue belongs back on Long Island, where it "might" be able to stop a war between the two camps.
The Athena Parthenos will go west; the
Argo II
will go east. The gods, still suffering from multiple personality disorder, are useless. How can a handful of young demigods hope to persevere against Gaea's army of powerful giants? As dangerous as it is to head to Athens, they have no other option. They have sacrificed too much already. And if Gaea wakes, it is game over.

SPOILERS BELOW


GUYS. THE END OF AN ERA IS UPON US.
The standout thing about this? I did NOT expect the tears coming our way. I thought I personally would be emotional (because of the fact that I have like kissed the Percy Jackson books goodnight since I was 10 years old) but in no way did I think Rick Riordan would crank up the feel factor like he did.
The personal journeys our characters went through are immense - but the series truly reached it's peak in that aspect in The Blood of Olympus with Nico's and Reyna's points of view. My heart just broke for them again and again but also swelled with insane pride.
And the MOMENTS. I just can't even. Percy and Annabeth in the spot of the rivalry in Athens. Never before has a book made me sob from PURE HAPPINESS.
I EVEN STARTED TO LOVE PIPER AND FRANK! If that doesn't speak of character development, nothing does.
And of course, the never- ending slew of cracks that could make even the most mature reader bust out laughing. Even Jason got in a few this time!
But there was just this one thing that nagged and nagged me about this installment and that was the lack of closure.
For God's sake this is the last demigod book EVER and we didn't have any chapters from Percy or Annabeth's point of view. We never found out what happens to Apollo or the Oracle of Delphi. And all the FREAKING GODS OF OLYMPUS THEMSELVES come down to fight with their children and we don't know what they said to them. The book ends with everyone thinking Leo's dead. HOW ON EARTH AM I SUPPOSED TO FEEL SATISFIED HERE??
Percy hasn't seen his mom in a year. The Hunters and Amazons don't come to the final battle. There's no Olympic council rewarding all the heroes. The demigods of Camp Half-Blood don't make a new clay bead. REYNA DOESN'T FIND LOVE.
I WANT MY ENDS TIED UP ALL NICE AND PRETTY, MR. RIORDAN. I'VE LOVED EVERY BOOK OF YOURS FOR ENOUGH YEARS TO EXPECT THIS.
But of course, it was beautiful nonetheless. I could never give anything by this author anything less than 5 stars. Now all that's left is to go mourn the loss of my childhood. Supporting comments much appreciated! *wipes tears and blows nose* Rating: