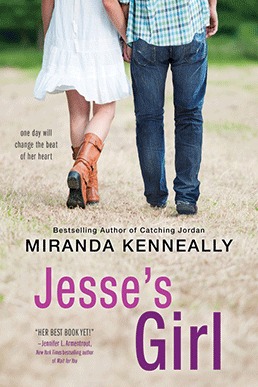 Jesse's Girl (Hundred Oaks Series)
Miranda Kinneally
Contemporary romance
Everyone at Hundred Oaks High knows that career mentoring day is a joke. So when Maya Henry said she wanted to be a rock star, she never imagined she'd get to shadow *the* Jesse Scott, Nashville's teen idol.
But spending the day with Jesse is far from a dream come true. He's as gorgeous as his music, but seeing all that he's accomplished is just a reminder of everything Maya's lost: her trust, her boyfriend, their band, and any chance to play the music she craves. Not to mention that Jesse's pushy and opinionated. He made it on his own, and he thinks Maya's playing back up to other people's dreams. Does she have what it takes to follow her heart—and go solo?
As you can tell by the sneak peek I posted way back in March, I was soooooo psyched to read Jesse's Girl. Below, an interview with Miranda Kinneally herself and my thoughts on the book!
1. First off, loving the title, and of course the song it's based on(: Did you name Jesse on purpose?
How, in general, do you name your characters?
A: Actually, I named Jesse a few years ago when I first started writing it. Originally, I wanted to call the book BEST DAY EVER. I knew Sourcebooks wanted me to come up with a new name for the book, but I was having trouble. My author friend Tiffany Reisz happened to be at a baseball game when the song "Jessie's Girl" came on the speakers, and she thought it was the perfect name for the book, because she had read it and liked Jesse's character. In general, I pick out names by browsing babynames.com :)
2. In Jesse's Girl, Jesse is only 19 and has already won 3 Grammys and has been called the king of country. How realistic was your portrayal of the music industry in the novel? (i.e. Wannabe Rocker, Jesse's life and lifestyle)
A: I think it's realistic. There have been many teenagers who have become big music stars. Some of my favorites are Taylor Swift and the Jackson Five. And don't forget Britney Spears and Justin Timberlake. They were huge stars by the time they were 17.
3. You grew up in Tennessee, like Maya. How much of her story and experiences are based on yours, if at all?
A: Like Maya, I was in my high school's show choir. I was a complete smart a$$ as a teenager, so I wrote down that I wanted to be a country music singer when I grew up for my school's career day. That's where I got the idea for JESSE'S GIRL.
4. Your bio lists becoming an Atlanta Brave, a country singer and a UN interpreter as dreams of yours. What inspired you to write?
A: I've enjoyed writing since I was a little kid. When I got to college, I didn't do so well in my literature and writing courses, but I kept working at my writing until I got published.
5. So among others, you've told us Sam's story, and now Maya's. What's next for you? Possibly a novel about little Anna Henry? *looks up hopefully*
A: What a good idea! ;-) I will think about writing Anna's book one day after she grows up. My next book is coming out in summer 2016, and it's about a girl who gets kicked out of her private school and has to start at Hundred Oaks her senior year.
Thanks for having me!
So, the moment I was totally waiting for. In truth? I wasn't disappointed, exactly, but it did fall short from what I expected of it. Therefore, I recommend coming at Jesse's Girl for a good time but not high expectations.
The main problem was little inconsistencies. For example, Maya says she hates country music but then talks about how she always loved Jesse Scott, aka the king of country. Jesse says he doesn't want to upset his uncle but then shows up to the shadowing day (that his uncle arranged and that Jesse agreed to so as not to upset him) wearing his underwear and being a jerk. If they were the characters' antics, you would expect that to be addressed.
Also, I don't know much about country music, but I can tell you Jesse's Girl is 100% the king of cliche. Seriously, I counted. There was the usually-aggressive-pet-takes-unusual-liking-to-the-love-interest, the adults-all-leave-so-the-'kids'-can-bond, boy-throws-pebbles-at-girl's-window-to-apologize-although-he-is-not-technically-at-fault, and the classic, let's-NOT-tell-major-secret-to-other-major-character-for-no-logical-reason-whatsoever
-except-further-the-plot.
But now for what I did like:
A.It was funny. I had some definite LOL moments.
B. Jesse. Awwwwww I just love him
C. LGBT characters portrayed what I judged to be realistically. Like Maya, I have a gay best friend and we talk to each other similiarly(:
D. Country language. I'm still giggling from the 'hit the sack' phrase.
E. Country people's reactions to NYC.. perfect and probably based on the writer's experience. VERY CUTE
Overall? I had a very good time reading Jesse's Girl - I accidentally stayed up a lot longer than planned to finish it, and I haven't done that in a looong time. Rating: