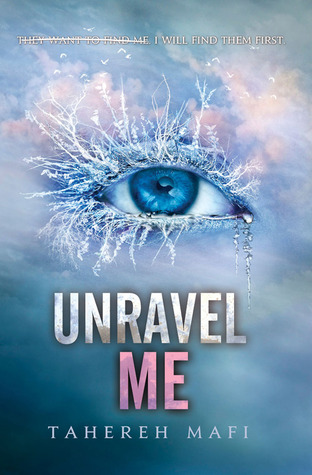 Unravel Me (Shatter Me #2)
Tahareh Mafi
Dystopia
tick
tick
tick
tick
it's almost
time for war.
Juliette has escaped to Omega Point. It is a place for people like her—people with gifts—and it is also the headquarters of the rebel resistance.
She's finally free from The Reestablishment, free from their plan to use her as a weapon, and free to love Adam. But Juliette will never be free from her lethal touch.
Or from Warner, who wants Juliette more than she ever thought possible.
In this exhilarating sequel to
Shatter Me
, Juliette has to make life-changing decisions between what she wants and what she thinks is right. Decisions that might involve choosing between her heart—and Adam's life.
You can read my review of Shatter Me here. As you can see, I adored the first book in this trilogy. However, Unravel Me fell short of my expectations.
Shatter Me end off with Juliette, Adam and Kenji arriving at Omega Point, so naturally I was excited. It's always so much fun to arrive at the center of the resistance in dystopian novels. When you start reading Unravel Me it becomes clear that Omega Point is a whole lot like District 13- right up to the dubious, supposedly good-intentioned leader. While that sounds good, I was actually really annoyed. The whole book played out like every. other. dystopian. novel. ever.
And worse, so much happened for no. reason. whatsoever. Like, you have the supreme leader all incapacitated at your feet but instead of capturing him, you'll take the son hostage. WHY. I'd write more examples of this but I don't want to be too spoilery. Basically, I''ll tell you I rolled my eyes a lot.
Another thing that bothered me in both the books was how attracted all the male characters were to Juliette. I mean, COME ON, the girl has been isolated and starved in a cell for 3 years, how good can she look? And even after that - she has no access to any hair products or hair removal techniques, and is constantly on the run in all sorts of conditions. I refuse to believe she can constantly be so pretty. Or at least, to the point where EVERY MALE CHARACTER HAS TO COMMENT ON IT. MULTIPLE TIMES.
Also, in every chapter, Juliette would make some sort of resolution to be more helpful, to accept herself, to stop whining over her problems with Adam and see the bigger picture. Usually these promises were after an inspiring speech from Kenji. AND YET, EVERY TIME, she would find herself doing the exact thing she said she wouldn't do about 3 pages after she said it she wouldn't. IT WAS SO TIRING.
Despite all this, I did find myself enjoying Unravel Me. Kenji is my love, and curiosity about Warner fueled my desire to keep reading. Rating:
Love,
Esty